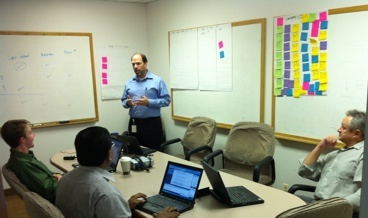 Welcome. I am David Howard and want to take a moment to provide some background and insight into why I am here, as well as answer a few common questions.  As a business technology consultant serving as a guide to business leaders, in matters of information technology, it has become apparent that the wheels of technology are often complex.
My passion is to see technology simplified and work in a complex system of process and people.  To allow the socialization of technology so that it sinks into the background while at the same time still driving communication and collaboration between people in an organization focused on making something or providing something, and serving someone.  If we were to compare it to a car, people get into a car and go somewhere, all the while talking and planning.  If the car is new, some time and conversation is spent on the features and design of the car, but eventually the conversation returns to the intent of getting to the destination and the details of the car fade away, while at the same time it is doing its job.  Technology should work like that. Unless the car is no longer serving its purpose or needs some gas or maintenance, or replacement, it should no longer be the topic.
I want to help business leaders do that: have technology get them somewhere as fast as they need to do, without being the main topic.  Instead of discussing maintenance, let's discuss performance and new opportunities for the business.
What does BizTech Sherpa mean anyway?
I chose the name BizTech Sherpa to combine the things I love.  BizTech describes the fusion of business people and process with technology; see below, and above, for some thoughts on that.  The Sherpa part is the idea of a guide.  Sherpa is a term that describes one who guides others to new places, commonly applied to to the Nepalese guides who help people get to the top of Mount Everest.  They are there with the explorer seeking new views, showing them the safest and most effective way to get to these seemingly insurmountable heights.  That's where I have been with business leaders who want to get somewhere new with their organization.
What is business technology vs information technology?
The term information technology (IT) or even Information Systems (IS) has been used to describe the technology function in an organization.  But that keeps it separate from the people it serves, much like it traditionally has been behind a glass wall, or a locked door.  It is not ingrained in the organization when thought of that way.  By using the term business technology, we assume that the technology exists to support the needs of the business, is intertwined with the business people and goals to create new opportunities.
Why the Compass Logo?
I thought about two possible logos to graphically describe what I am doing here.  The compass, and a merge sign. The traditional American merge sign was appealing, because it describes two roads coming together that were separate in order to flow as one, much like I am seeking to do with business needs and technology capability.
But in the end I decided on a compass, because it is what I am seeking to be.  A compass tells you the direction you are heading, and what true north is. In the important decisions I can help with, there will be a true north representing an optimal means to a desired end, and many other options that may be acceptable, but not optimal. Optimal for business technology decisions is generally one with the greatest ROI that adds the greatest value and satisfaction to the people affected by the change.  And that is ultimately what I want for you through this site. When I selected an image of a compass, I purposely chose one that does not point true north; because we can rarely get there with the unknowns of technology and the changing needs of people, but we can get close. I want you to have the best business technology consulting input you can get.
Why are there two distinct sections: Enterprise Management and Connected Executive?
I have two focus areas to speak about that I have a real interest in because I think it will make a difference for you.
The first is Enterprise Management. This includes the issues that affect your entire organization. The systems and directions that impact your top and bottom lines, affect your ability to grow and manage risk, and provide a cohesive approach for the organization to work within. Topics will include the structure and services of the Information Technology function, its relationship to the rest of the business, and the key systems and policies is implements. My goal is that the business leader understands how to get the most out of their information technology function and not allow it to become a bottleneck.
The second focus area is the Connected Executive. I am a connected person, and use multiple systems and methods to curate, consume, create, and share information that drives change and improvement for others. I want to share how I do that on the go, or in the office. My goal is that you personally are a more effective and efficient user of information technology. The topics won't be on the enterprise level, they will be on the personal use technology level: what laptop, tablet, phone, application, etc. will help you be connected to what is going on without getting in the way? I love technology, and try almost everything to see how it will work for me, so let me share what I have learned.
How do you provide your services?
I am a partner at Keystone Technology Consultants, and proud of the organization I am part of.  You can contact me or the rest of my team there to see how we can help you with these issues. Or just enjoy stay here, and let me know what topics interest you.